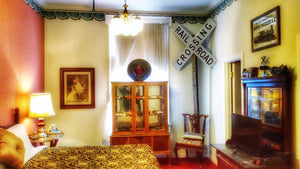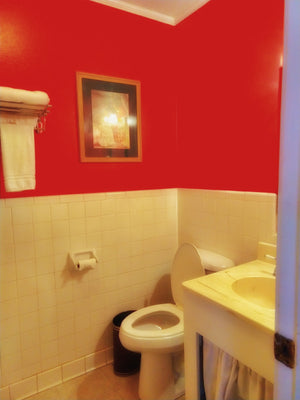 Room 15 Model Train Exhibit
#15 Single Room
Room 15 is an upstairs room featuring 1 King Bed with 180 Square feet.  
This room has a maximum of 2 people. 
This is one of our Themed rooms. The Model Circus Train Exhibit is a themed room based on our vintage model train collection. 
Bathtub, large flat screen television with an Amazon Fire stick and high speed wireless Internet.
There are several restaurants within walking distance in the downtown historical district.
Our historic hotel is 100% SMOKE FREE. We do NOT offer refunds or Cancellations for any reason but we can change the date of your visit if you cannot make the date you reserved. In the event that you need to reschedule your visit, there needs to be a two day notice before the reservation date. Please see our Polices on the main page for further information.